Custom Self-Propelled Two Bed Harvesters (SP-132) for the Agricultural Industry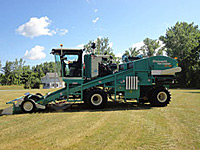 If you are in the onion industry and you want to maximize your production, it is time to talk to Lee Shuknecht & Sons, Inc. We have been manufacturing mechanical onion harvesting units for over 30 years, and we can help you increase your output while gently handling the produce. The SP-132 is a self-propelled two bed harvester that eliminates windrowing while simultaneously direct loading two beds, for a total production width of 132" using 47" chains. This low maintenance mechanical harvester provides the highest percentage of topping of all their onion harvesters while it harvests two to three tons per minute. Powered by a standard 190-hp Cummins engine, the solo operator seated in an air conditioned cab has complete control over blower speed, primary and rear elevator speeds, cutter bar speed and height, and ground speed. The two-bed harvester features a 4' high capacity boom and easily controlled front pick up elevators with spring assist floats. The list of available options is impressive: a moveable 4' or 5' dipper, rotating cab, stainless blower housing liners, and a whopping 240 hp engine. Digital readouts for the blower, primary chain, and ground speed can be included, as well as hydraulic adjustment front elevator gauge wheels. Ground sync primary chain control, a posi-traction four wheel drive system, and hydraulic trash chain drive can all be built into the SP-132.
To learn more contact us directly.

Agricultural Machinery Repair & Rebuilding Gallery
Custom Self-Propelled Two Bed Harvesters Videos
Custom Self-Propelled Two Bed Harvesters Project Highlights
Product Name

Self-Propelled Two Bed Harvesters
Model

Self-Propelled
Features/Benefits

Eliminates Windrowing
Direct Loads (Picks up two beds - up to 132")
Low Maintenance

Highest Percentage of Topping
Tops & Loads 2 -3 Tons per Minute
Standard Features

190 HP Cummins Engine
Total control of blower speed, primary elevator speed, rear elevator speed, cutter bar speed and height, ground speed.
Harvest two beds up to 132" wide
47" Chains

Pressurized Air Conditioned Cab
4' High Capacity Boom

Easily controlled front pick up Elevators with Spring Assist Float
Available Options

Moveable Dipper 4' or 5'
Rotating Cab
Stainless Blower Housing Liners
240 HP Engine Upgrade
Digital Blower, Primary Chain, and Ground Speed Readouts

Hydraulic Adjust Front Elevator Gauge Wheels
Ground Sync Primary Chain Control
Posi-Traction Four Wheel Drive System
Hydraulic Trash Chain Drive
Industry

Agricultural Equipment
Delivery Location

Worldwide